The Ahalya's Awakening is a wonderful retelling of Ahalya's life. In this review of Ahalya's Awakening, we have mentioned why we liked this book and why you must also read this book.
---
About the Book
---
Title: Ahalya's Awakening
Author: Kavita Kane
Genre: Mythology, Indian
Publisher: Westland
Type: Standalone
Pages: 356
Goodreads Rating: 3.9 / 5
It's a well-known legend that Ahalya was cursed to turn into stone by her husband Rishi Gautum for infidelity. But is it true? And if so, why? In this gripping retelling, Kavita Kane tells us about Ahalya's life from birth till after the curse and how it affected her.
---
Ahalya's Awakening Review
---
I was reading The Forest of Enchantments by Kavita Kane and there was a brief mention of Ahalya in the book. This got me curious about her and her life. So, when I found out that there was a book about her by the same author, I was delighted to say the least.
Kavita Kane has this knack for presenting mythological stories through the eyes of a female lead. And this book seemed no exception.
The cover of Ahalyas Awakening and the title both are very appropriate to the story. As Ahalya was cursed to turn into a stone, the half part shown as a statue is very relatable. And also the title is also very apt to the story. There couldn't have been any better title than Ahalya's Awakening.
The starting of the book is very good. It immediately immerses you into Ahalya's world. And it is well written and built very beautifully. It feels like you yourself are part of it and are watching it unfold.
The plot is as well beautifully built. It is interesting and keeps the attention of the readers till the end. I liked that the author had written from not just Ahalya's perspective but as well from Indra's. It gave an insight into where his mind was when did certain actions.
"It is just one single moment of weakness, that momentary lapse of judgment—that is all it takes for us to make us lose our all in our struggle between good and bad, right and wrong, allowing the wrong to win."

― Kavita Kané
The pace of this book was also good; neither too fast nor too slow. It was very appropriate.
I especially loved the epilogue of this book. It was a conversation between Ahalya and Sita. And it summed up the book and what had happened in a nice wrap.
Overall, Kavita Kane has done a very good job at catching the feelings and moments Ahalya was feeling. After finishing this book, I felt like I had seen all this happen in front of my eyes. I liked the writing style of the author. It was friendly and easy to read and understand.
---
Conclusion
---
Rating: 5 / 5 Our Rating Guide
Recommendation: Definitely Yes!!!!!!
If you liked Menaka's Choice, Circe, The Forest of Enchantments, or any other book like this, then you might like this book too.
If you want to read Ahalya's Awakening, click on the link below:
---
About the Author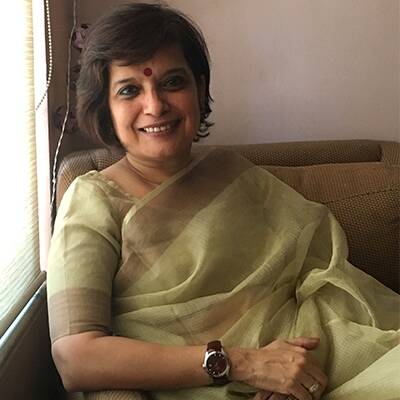 Born in Mumbai, a childhood spent largely in Patna and Delhi, Kavita currently lives in Pune with her mariner husband Prakash, and two daughters Kimaya and Amiya. She is a senior journalist with a career of over two decades, which includes working for Magna publication and DNA, and then she quit her job as Assistant Editor of Times of India to devote herself as a full-time author. Her debut novel, Karna's Wife,(2013) is a bestseller.
---
Below is the link to buy Ahalya's Awakening:
Articles you might like:
Videos you might like:
---
Want to send us the book for promotion? Or want space on our blog for advertising? Refer to Promotion & Ads page.
---
Disclosure: All our reviews are honest. Also, some links in this post may be affiliate links, which means we receive a commission if you click a link and purchase something that we recommend.
Subscribe to our newsletter to never miss our updates and book recommendations.
Which is your favorite mythology book? Do comment below. We would love to know your favorite one.
Do follow us on Instagram, Twitter, Pinterest, Youtube, Tumblr, Facebook, and Goodreads.
P.S. If you share it, it will make our day.
Have a great day ahead! 🙂
Happy Reading and Keep Smiling!!!