Confidently Ever After is a must-read for those who want to motivate their self-confidence. In this review of Confidently Ever After, we have mentioned two of our favorite quotes from the book as a bonus.
---
---
About Confidently Ever After
---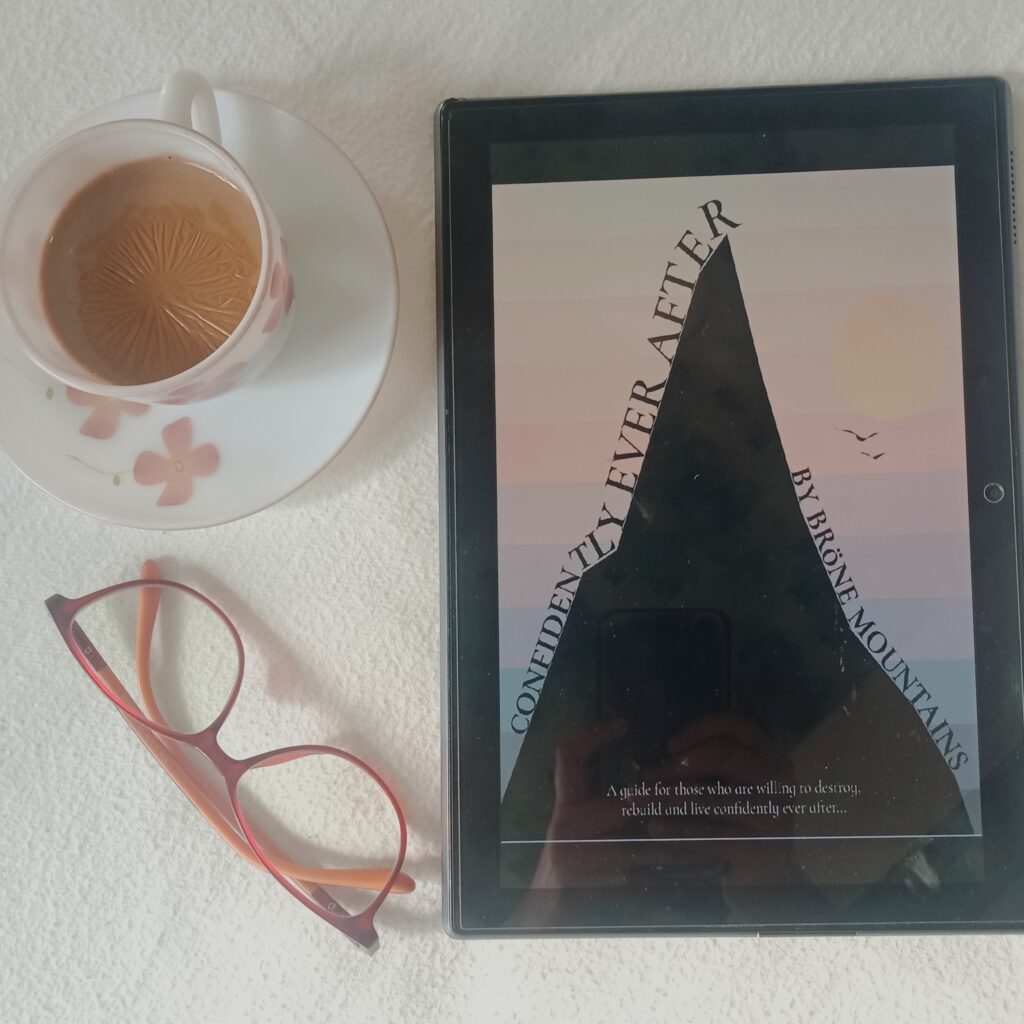 Title: Confidently Ever After
Author: Brone Mountains
Genre: Self Help
Pages: 151
Goodreads Rating: 5/5
This book, Confidently Ever After, is a guide to help you become your confident self. It is a practical guide with a realistic approach and examples that will help you boost your self-confidence. It equips you with the tools you need to be your confident self.
If you liked Outliers, How to Make Friends and Influence People, or any other book like this, then you might like this book too.
---
Confidently Ever After Book Review
---
The title of this book, Confidently Ever After, is very apt and relatable. Though I feel a different book cover would have been better.
The thing I love the most about this book is that it is not diverting you with a number of sub-topics. It just focuses on one topic, i.e, SELF-CONFIDENCE, and expands it.
When I describe confidence as loving and respecting yourself, it sounds much more achievable.

Brone Mountains
This line is the interpretation of what confidence is, and isn't it very apt and beautiful?
In this book, Confidently Ever After, the author takes us through various scenarios to help us understand the point. The scenarios and examples mentioned are often based on the experiences we have in real life.
Also, there are exercises and activities in the book, which are equally fun and relevant.
This book encourages readers to find solutions by doing self-analysis. Although the solutions are generalized, they might help you in boosting your self-confidence.
One more thing I love about this book is that it doesn't promise some instant fake guide to improve your confidence. Instead, it is a very thoughtful and honest guide. The author mentions at the books' starting only that your confidence is not a thing that will improve instantly. It takes time to be a self-confident person.
Treat yourself the same way, you want others to treat you.

-Brone Mountains
Never have I ever been so touched as the line above. We always hear, 'Treat OTHERS the same way you want them to treat you.' But no one says, "Treat YOURSELF the same way you want others to treat you." Treating yourself is equally important. Isn't it?
---
Conclusion
---
Recommendation: Yes absolutely!
Rating: 4.5 / 5, Our Rating Guide
If you want a book to motivate your self-confidence, then this book is just for you.
Buy the Book Now:
---
Below is the link to buy the book:
Articles you might like:
Videos you might like:
---
Are you an author or a publisher? If yes, then you must check our services for promotions and marketing. They will undoubtedly benefit you.
---
Disclosure: This post is a sponsored post. But all our opinions are honest and of our own. Also, some links in this post may be affiliate links, which means we may receive a commission if you click a link and purchase something that we recommend.
Which is your favorite self-help book? Do comment below. We would love to know your favorite one.
Subscribe to our newsletter to never miss our updates and book recommendation
Do follow us on Instagram, Twitter, Pinterest, Youtube, Facebook, and Goodreads to know more about us.
P.S. If you share it, it will make our day.
Have a nice day ahead!😊
Happy reading!Keep similing!!