A story about an all-consuming love and about destiny, The Lucky One by Nicholas Sparks is hard to put down (even if it is filled with the cliche), and in this article, we give a full spoiler-free review for the book.
---
About The Lucky One
---
Title: The Lucky One
Author: Nicholas Sparks
Genre: Romance, Contemporary, Adult
Publisher: Grand Central Publishing
Type: Standalone
Pages: 326
Goodreads rating: 4.1/5
U.S. Marine Logan Thibault has been having a streak of good luck for a while now. And by good luck, he doesn't just mean winning poker games. Surviving deadly combat during a war that killed his two friends, that type of good luck. And the only thing that he can think of that changed his life is the photograph of a woman that he accidentally found and carried with him (without meaning to). After he returns from his duty, he can't stop thinking about the photo and the woman in it. The last thing he expected was to feel the sudden spark of attraction between him and Elizabeth – the mysterious woman from the photo. Beth and Logan soon start getting closer, but Logan has no idea that the story behind the photograph has the power to completely break their relationship and ruin the flow of their fate.
---
Book Review of The Lucky One
Let's be honest; we all love Nicholas Sparks. His books are some of our favorite guilty pleasures, and no matter how cliche or formulaic his stories get, we still eat it all up. And its main reason is his way of storytelling. It's not just about excellent writing; it's how he could make you feel so invested in a story whose ending has been predicted since the first page. The Lucky One is no different from his other works. It also helps that the film version had Zec Efron as its protagonist (he is gorgeous).
The cover is pretty basic at most, though I like the shade of blue. The title is very straightforward and suitable for the central theme of this romance. Unfortunately, it gradually loses its meaning, but that's for you to decide.
The writing of Sparks is as charming as it's always been. Yes, it's formulaic, as are his characters and settings, but the formula works for him, so I see nothing to complain about. His characters are too perfect though, and there lies my problem.
I like my characters to be complex, with layers, or at the very least be real. Beth and Thibault are none of those. They make mistakes, but I didn't get the flawed feeling from them. They were both good at everything and so compatible with each other from almost their first meeting – seriously? I mostly love my romance books slow-burns, so instant love didn't do it for me. Again though, it's all about preferences.
Nevertheless, at least the two characters had chemistry. And it was made better by the connection that Beth, Logan, and Beth's son, Ben, shared together. Their scenes together were my favorite part of the book. In addition, the central conflict wasn't much of a conflict, and the main antagonist wasn't much of an antagonist. So it was a book in that I didn't have to invest a lot emotionally.
I also liked that we got multiple povs (those are my favorite, so it made me like the book more). And it's got some really adorable and romantic quotes that I honestly have pinned on my board (nope, I am not a romantic at all. No way.)
"Sometimes the most ordinary things could be made extraordinary, simply by doing them with the right people."

Nicholas Sparks
Overall, I liked the book enough to add it to my list of romance recommendations, but not enough to come back for seconds or thirds. This is a feel-good book that you can read for a chill, easy, simple read and enjoy as long as you don't think too deeply about it. After all, we all need some fluff in our lives from time to time.
Conclusion
---
Rating: 4 / 5 Our Rating Guide
Recommendation: Yups, Definitely. But like I said, you need to tone down your intelligence and criticism a little to fully enjoy it.
If you have liked Nicholas Sparks for a while, or books like 'What If It's Us' by Becky Albertalli and Adam Silvera, you would like 'The Lucky One'. For the people who like their romances cute and mostly unproblematic, go for it!
Buy The Lucky One Now:
---
About the Author
---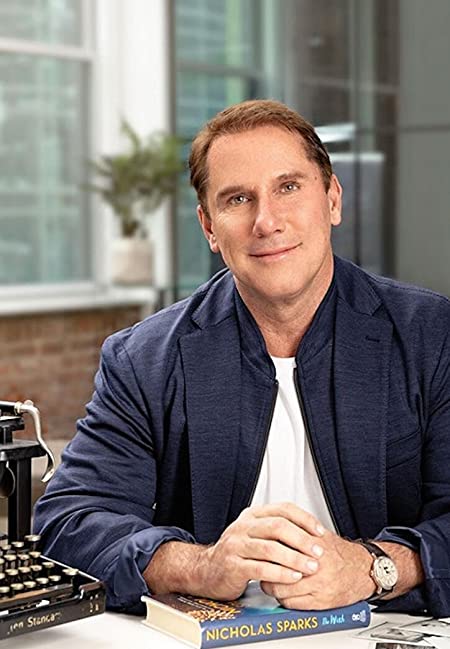 Nicholas Charles Sparks is an American novelist, screenwriter, and philanthropist who has published twenty-two novels and two non-fiction books, all of which have been New York Times bestsellers. Born in 1965 in Omaha, United States, Sparks graduated from the University of Notre Dame in 1988 in Business Finance. Some of his best, most famous works include The Notebook, A Walk to Remember, The Lucky One, and Message in A Bottle, all of which have been adapted into films in addition to 7 more books (a total of 11 works). He lives in North Carolina, which he uses as a setting for lots of his novels and his five children (3 sons and twin daughters).
Below is the link to buy The Lucky One:
Articles you might like:
Videos you might like:
---
Want to send us the book for promotion? Or want space on our blog for advertising? Refer to Promotion & Ads page.
---
Disclosure: All our reviews are honest. Also, some links in this post may be affiliate links, which means we receive a commission if you click a link and purchase something that we recommend.
Have you read The Lucky One What did you like about it? Do comments below. We would love to know.
Subscribe to our newsletter to never miss our updates and book recommendations.
Do follow us on Instagram, Twitter, Pinterest, Youtube, Tumblr, Facebook, and Goodreads.
P.S. If you share it, it will make our day.
Have a great day ahead! 🙂
Happy Reading and Keep Smiling!!! Sharing is caring!