From Lukov With Love is one of the most adorable love stories. It is a slow burn and follows the sub-genre of childhood friends to lovers. Also, figure skating and enemies bullying each other have never been this romantic until this book. This book is a page-turner with solid emotions and heartbreaking pauses. Therefore, this article brings you the review of From Lukov With Love, one of the most cherished books ever.
---
About the Book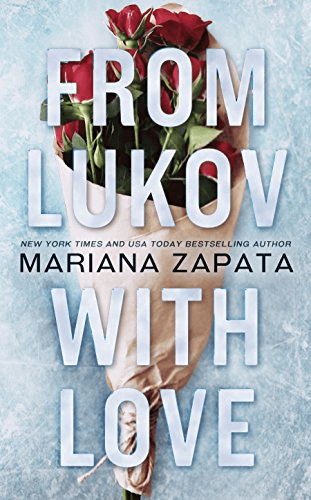 Title: From Lukov With Love
Author: Mariana Zapata
Genre: Contemporary Romance
Publisher: Mariana Zapata
Type: Standalone
Pages: 538
Goodreads rating: 4.4/5
This is the story of Jasmine Santos's determination to prove to everyone, including herself, that she is one of the best figure skaters. But unfortunately, her time hasn't come yet. Moreover, she is a mean, hard-working girl with a big, loud family who loves her. However, Jasmine has dealt with online harassment and unwanted attention for years but decided not to tell anyone about the situation, thinking it is not a big deal. Finally, after countless broken bones and promises and seventeen years of waiting, her door to compete in figure skating seems to close. Until she receives the offer of her life from an arrogant, handsome man, she has spent her last decade dreaming about pushing in front of a moving bus. After that, however, she must reconsider everything, including Ivan Lukov, the man she can't tolerate.
---
Book Review of From Lukov With Love
---
I am overwhelmed with adoration for this book. With its emotional solid feelings and struggles, it is a heart catcher. Furthermore, I don't think I'll be able to forget about the joyful ride it took me through the feelings of awestruck love and passion.
Speaking of the cover, the beautiful bouquet depicts a heart full of pure love. The cover is designed perfectly, clearly bringing in the book's topic we are supposed to deal with. Finally, the title printed on it gives us an overview of the purpose of the flowers and is capable of charming the readers' attention.
Every author's most vital point to captivate readers' minds is always their writing authenticity. And Zapata does that. With her exceptional sentence creativity and image-building ability, she grasps the attention of every reader. I could feel the emotions displayed beautifully, bringing clarity to the protagonists' desires. Moreover, every scene is vividly described to capture the heart of the readers, paving the route of love. Lastly, I'm writing this review because of the book's intense emotional grip that hasn't left me yet.
"I love you so much I spend all day with you, and it still isn't enough for me," he kept going. I stopped breathing. "I love you so much, if I can't skate with you, I don't want to skate with anyone else." Holy. Fuck. "I love you so fucking much, Jasmine, that if I broke my ankle during a program, I would get up and finish it for you, to get you what you've always wanted."

Mariana Zapata, From Lukov With Love
The role the characters play and their growth throughout the book is fascinating. The best thing about this book is that there is a limited number of characters. Also, the characters' transition from surpassing their insecurities to bold and beautiful individuals is wonderfully woven by the author. I loved the book because of the connections I felt with the characters and the emotional ride they took me through.
However, people reading fast-paced books may not like the book because of their slow-burn element. But when the attraction between the protagonists comes to the effect, it is the furthest thing from boring. Likewise, Zapata has done a splendid job of making the readers go through the ups and downs of the complex yet simple feeling of love. Finally, with romance at its core, it washes the thoughts of each reader with awe.
"Love to me was honesty. Being real. Knowing someone's best and worst. Love was a push that said someone believed in you when you didn't."

Mariana Zapata, From Lukov With Love
Didn't I say that this book is adorable? Of course, it is. The author's storytelling ability is flawless and manages to grip every heart with feelings of love and fulfillment. Moreover, the silent gasps it evokes from each reader are innumerable.
"We both know you love me." I wanted to deny it. I really did. Mostly because I hated the fact that he sounded so smug. But we both knew I'd be lying. Maybe I'd never said the words, but he knew. Like he'd known about my learning disability but never said anything. Like he knew chocolate was my weakness and fed it to me when I needed it most."

Mariana Zapata, From Lukov With Love
This book might not be for mystery, adventure, or sci-fi readers due to its slow-burn love element, but it's still worth a try if you're trying to explore the contemporary love genre. It is a must-read for the readers in love with the genre, and I can vouch that it will be one of your favorites, too, like it became mine. Lastly, give this review a read to learn more about From Lukov With Love.
---
Conclusion
---
Rating: 5 / 5
Recommendation: Undoubtedly. 100%
I love stories that bring me solace and hope of finding love, so this will undoubtedly be your go-to book. With the odds described and the support received from the protagonists for each other, this book will let you feel what love means. Moreover, it motivates the readers to be themselves and let love find them.
Buy From Lukov With Love Now
---
About the Author
Mariana Zapata was born on 27 September 1986 in Texas, United States. In her teens, she wrote boy band fanfiction, and in her early twenties, she picked it back up again with Sookie Stackhouse and Twilight. She lives in a small town called Pagosa Springs, Colorado, with her husband/best friend, Chris Letchford, and their two well-beloved children, Dorian and Kaiser. Except for writing, she enjoys reading sci-fi, fantasy, steampunk, or historical romance novels. She loves to be with her dogs and is a homemaker; however, she loves to crack jokes at the expense of her family members.
---
Below is the link to buy From Lukov With Love Now :
Articles you might like:
Videos you might like:
---
Want to send us the book for promotion? Or enjoy space on our blog for advertising? Refer to Promotion & Ads page.
---
Disclosure: The Favor book review is honest. Also, some links in this post may be affiliate links, meaning we receive a commission if you click a link and purchase something we recommend.
Have you read From Lukov With Love? What did you like about it? Leave comments below. We would love to know.
Subscribe to our newsletter to never miss our updates and book recommendations.
Follow us on Instagram, Twitter, Pinterest, Youtube, Tumblr, Facebook, and Goodreads.
P.S. If you share it, it will make our day.
Have a great day ahead! 🙂
Happy Reading, and Keep Smiling!! Sharing is caring!