Friends! The ones with whom you have so many memories. With whom you have had your good times and together celebrated your bad times.
It is just one word with so many undescribable meanings.
And, it is truly said,
"In the cookie of life, friends are the chocolate chips."
So, here we have compiled some amazing book quotes to celebrate Friends and Friendships. These quotes are surely going to make you want to tell your friends just how special they are to you!
So what are you waiting for, scroll down to some amazing book quotes on friendship!! 😉
---
1. "A snowball in the face is surely the perfect beginning to a lasting friendship." -Markus Zusak, The Book Thief
---
2. "It takes a great deal of bravery to stand up to our enemies, but just as much to stand up to our friends." –J.K.Rowling, Harry Potter, and the Sorcerer's Stone
---
3. "You don't have to be crazy to be my friend. I'll train you." -Kentry D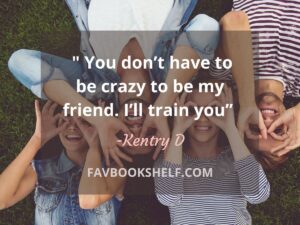 ---
"True friends are always together in spirit. "

-L.M. Montgomery
---
5. "True friends are those who came into your life, saw the most negative part of you, but are not ready to leave you, no matter how contagious you are to them." –Michael Bassey Johnson, The Infinity Sign
---
6. . "A friend may be waiting behind a stranger's face." -Maya Angelou, Letter to My Daughter
---
7. Friendship is everything. Friendship is more than talent. It is more than the government. It is almost the equal of family." -Mario Puzo
---
8. "The person you can call at two a.m. and, no matter what, you can count on them. Even if they're asleep or it's cold or you need to be bailed out of jail … they'll come for you. It's like, the highest level of friendship." -Sarah Dessen
---
9. "Remember that you and I made this journey together to a place where there was nowhere left to go." –Jhumpa Lahiri, The Namesake
---
10. "I am glad you are here with me. Here at the end of all things, Sam." -J.R.R. Tolkien, The Return of the King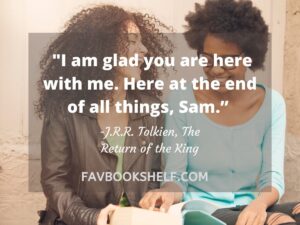 ---
11. "If I send you my ugly selfies, our friendship is real." –Trisha Paytas
---
12. "They were not perfect, but they were my friends." -Susanna Kaysen, Girl Interrupted
---
13. "Without friends, no one would want to live, even if he had all other goods" -Aristotle, The Nicomachean Ethics
---
14. "Wasn't friendship its own miracle, the finding of another person who made the entire lonely world seem somehow less lonely?" -Hanya Yanagihara, A Little Life
---
15. "A friend is someone who knows all about you and still loves you." -Elbert Hubbard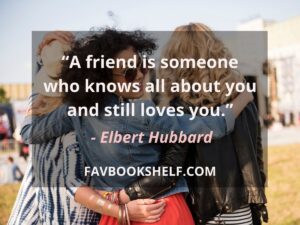 ---
16. "Not a word passes between us, not because we have nothing to say, but because we don't have to say anything." –Khaled Hosseini, Kite Runner
---
17. "We cannot tell the precise moment when friendship is formed. As in filling a vessel drop by drop, there is, at last, a drop which makes it run over; so in a series of kindness there is at last one which makes the heart run over." -Ray Bradbury, Fahrenheit 451
---
Friendship – my definition – is built on two things. Respect and trust. Both elements have to be there. And it has to be mutual. You can have respect for someone, but if you don't have trust, the friendship will crumble.

–Stieg Larsson, The Girl With The Dragon Tattoo
---
19. "I was happy before I met him. But I'm alive now, and those are not the same thing." –Nicola Yoon, Everything Everything
---
20. "Sam and Patrick looked at me. And I looked at them. And I think they knew. Not anything specific really. They just knew. And I think that's all you can ever ask from a friend." –Stephen Chbosky, The Perks of Being a Wallflower
---
21. "I would rather walk with a friend in the dark, than alone in the light." -Helen Keller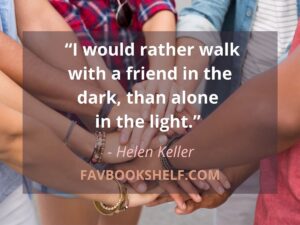 ---
22. "There is nothing I would not do for those who are my friends. I have no notion of loving people by halves, it is not my nature." -Jane Austen
---
23. "Through friendships, we spark and inspire one another's ambitions." –Wallace Stegner, Crossing to Safety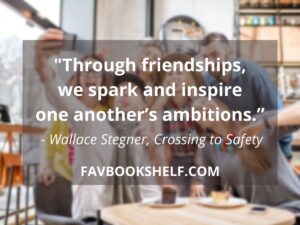 ---
24. "Friendship is certainly the finest balm for the pangs of disappointed love." -Jane Austen, Northanger Abbey
---
25. "There is no surer foundation for a beautiful friendship than a mutual taste in literature." -P.G. Wodehouse
---
26. "A good friend is a connection to life; a tie to the past, a road to the future, the key to sanity in an insane world." -Lois Wyse
---
27. "We clung to books and to our friends; they reminded us that we had another part to us." -Annie Barrows
---
28. "Saying you're friends is easy. Being friends is not." –David Leviathan, Naomi and Ely's No Kiss List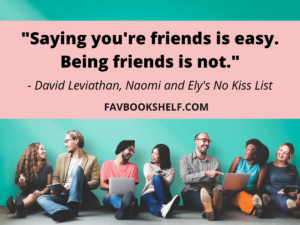 ---
29. "My friends love me more than I deserve. That's never been a question." -Sarah Gailey, When We Were Magic
---
30. "One friend with whom you have a lot in common is better than three with whom you struggle to find things to talk about." -Mindy Kaling, Is Everyone Hanging Out Without Me?
---
31. "For you, thousand times over." -Khaled Hosseini, The Kite Runner
---
I hope these book quotes on friendship touch your heart the same way they did mine. Do share them with your friends as well.
So, which book quote on friendship reminded you of your friend? Do comment below.
Also, below are the articles you might like:
Videos you might also like:
---
Are you an author or a publisher? If yes, then you must check our services for promotions and marketing. They will undoubtedly benefit you.
---
Disclosure: Some links in this post may be affiliate links, which means we receive a commission if you click a link and purchase something that we recommend.
Have you read any books on friendship? Do tell us in the comment section below.
Subscribe to our newsletter to never miss our updates and book recommendations.
Do follow us on Instagram, Twitter, Pinterest, Youtube, Facebook, and Goodreads to know more about us.
P.S. If you share it, it will make our day.
Have a nice day ahead 🙂
Happy Reading and Keep Smiling!!