The Grishaverse is a shared universe that includes several series. All of them are interconnected to each other. It's an exciting, fast-paced, and very character-driven series, and in this article, we have given a spoiler-free review for the Grishaverse series.
---
About The Grishaverse Series
---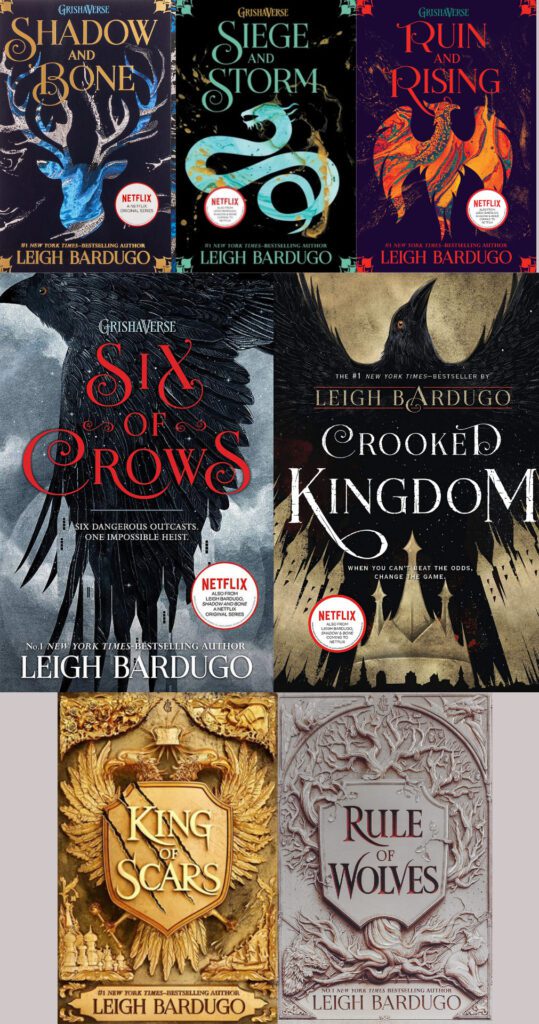 Title: Grishaverse
Author: Leigh Bardugo
Genre: Young Adult, Fantasy, Romance
Publisher: Henry Holt & Co.
Type: Series
No. of Books in the Series: 3 Series (7 books in total)
Books in the Grishaverse: 1. Shadow and Bone Trilogy (#1 Shadow and Bone, #2 Siege and Storm, #3 Ruin and Rising), 2. Six of Crows Series (#4 Six of Crows, #5 Crooked Kingdom), 3. King of Scars Series (#6 King of Scars, #7 Rule of Wolves)
Ravka is a powerful country consisting of Grisha's who practice the small science and who are revered by everyone. Or it used to be. Now war-ravaged, Ravka struggles to exist as the nation is torn apart by Shadow Fold, never-ending darkness that gives birth to monsters. While Alina, an ordinary girl with extraordinary powers, struggles with her newfound magic. The Shadow Fold and Ravka's enemy nations continue to terrorize the kingdom, surrounded by conspiracies, love, friendship, and betrayal. The Grishaverse tells the stories of people living in a ruined country, some trying to live with hope, some giving up on their beliefs, and some others going as far as to forge their way to survive.
The primary plot revolves around Ravka and some of its populace. But the sequel series also follows the characters as they venture out of their kingdom. Highly proclaimed, Leigh Bardugo's Grishaverse is adapted as a Netflix Original Series.
---
Review Of The Grishaverse
---
Honestly, I read the books long before the Netflix series was even announced. And I loved every bit of it, both its highs and lows. That's why it took me months before I could watch the show. It surprised me by how good it was, but that's beyond the point. The point is that the Grishaverse is one of the best-written fantasy series in existence to date. And Leigh Bardugo is a genius. 
Leigh has a very distinct writing style, and all three series have different narrative techniques. All the characters have enough space and time to grow and develop, and the world-building is immaculate. The only minus point of this series is the very lengthy and repetitive descriptions, but they get better in the later books.
The plannings and plottings of the villains (and the heroes) were badass, the characters had depth and layers, and the relationship dynamics were well put together. Overall, it was mind-blowingly good, and it created enough space in my heart to stay there for a long, long time.
Now, on to a more detailed summary and review of each series:
---
Grishaverse: 1. Shadow and Bone Triology
---
About the Book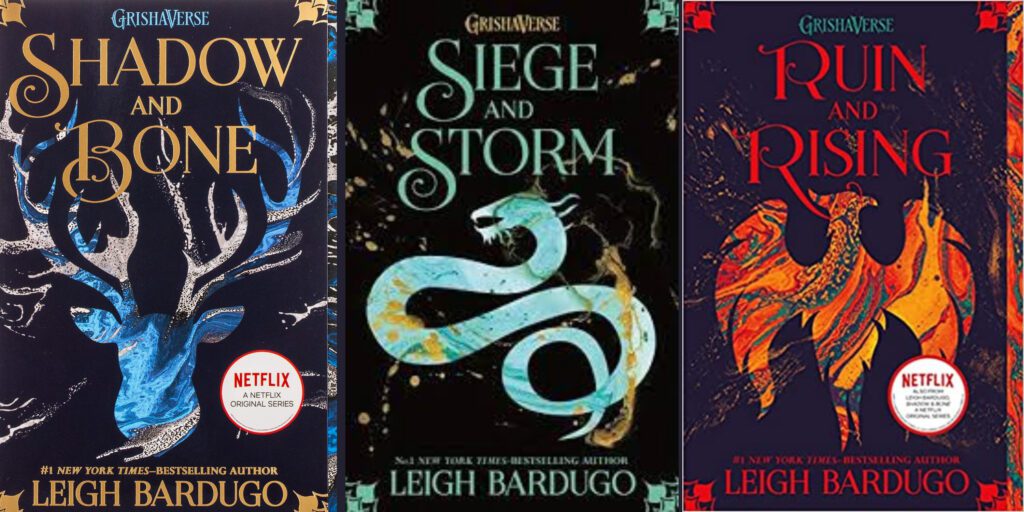 Title: Shadow and Bone
Publisher: Henry Holt & Co.
Books in it: #1 Shadow and Bone, #2 Siege and Storm, #3 Ruin and Rising
Goodreads rating: 3.9/5
Alina Starkov is a normal girl. Extremely ordinary. But Alina's country isn't, and neither are her powers. So on an excursion to pass through Shadow Fold- the never-ending darkness that swallows anything and everything leads to a tragic disaster, Alina is forced to unleash her dormant powers. And things start to go only downhill from there. Ravka's enemies are closing in on them, the mysterious-charming leader of the second army is obsessing over her powers, and Alina isn't able to differentiate foes from friends. Shadow and Bone's series is the story of Alina as she learns to control her powers and the growing darkness within her, all the while trying to save her country from disappearing. 
Mini-Review:
The only reason I love this series is because it gave us the Darkling. And yeah, Alina's character growth and badassness too, but that's secondary because of DARKLING!!!! His "You and I are going to change the world" forever lives in my head rent-free. Anyways, read this for the complex dynamics of the characters and that gorgeous world-building and not for Mal. Yeah, not a fan of him. Go figure.
Rating: 4 / 5; Our Rating Guide
Recommendation: Definitely!! I honestly want to acquire a memory loss so that I can rediscover this series.
Buy Shadow and Bone series now:
---
Grishaverse: 2. Six of Crows Series
---
About the Book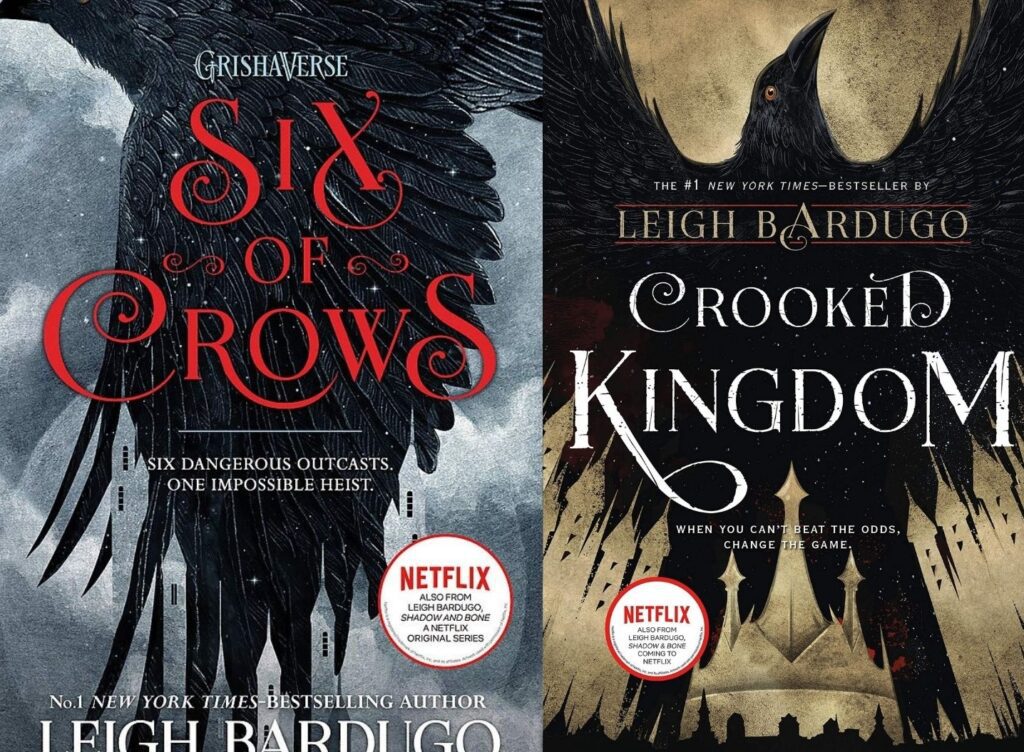 Title: Six of Crows
Publisher: Henry Holt & Co.
Books in it: #1 Six of Crows, #2 Crooked Kingdom
Goodreads Rating: 4.5/5
Kaz Brekker is on a mission to save the world with a group of misfits, but all he cares about is the cash. The world can end for all he cares, except he does care, or how else would he get his revenge? These six people, who couldn't be any more different from each other, and each with their demons to deal with, are about to carry out the biggest heist that Ravka has ever seen. In style.
Mini-Review:
I would keep screaming about how fantastic this series is at the top of my lungs till the very day I die, I swear to God. I literally cannot find a single flaw in this series. It's also got my all-time favorite couple whose romance progression is so subtle and beautiful. "I will have you without armor, Kaz Brekker. Or I will not have you at all." Anyone? Also, all these diverse characters. And an iconic LGBT romance? Please, this series is literal perfection. (I read it before Shadow and Bone trilogy and still did not miss a single element.)
Rating: 5 / 5, Our Rating Guide
Recommendation: A thousand times yes! Yes, yes!!
Buy the Six of Crows now:
---
Grishaverse: 3. King of Scars Series
---
About the Book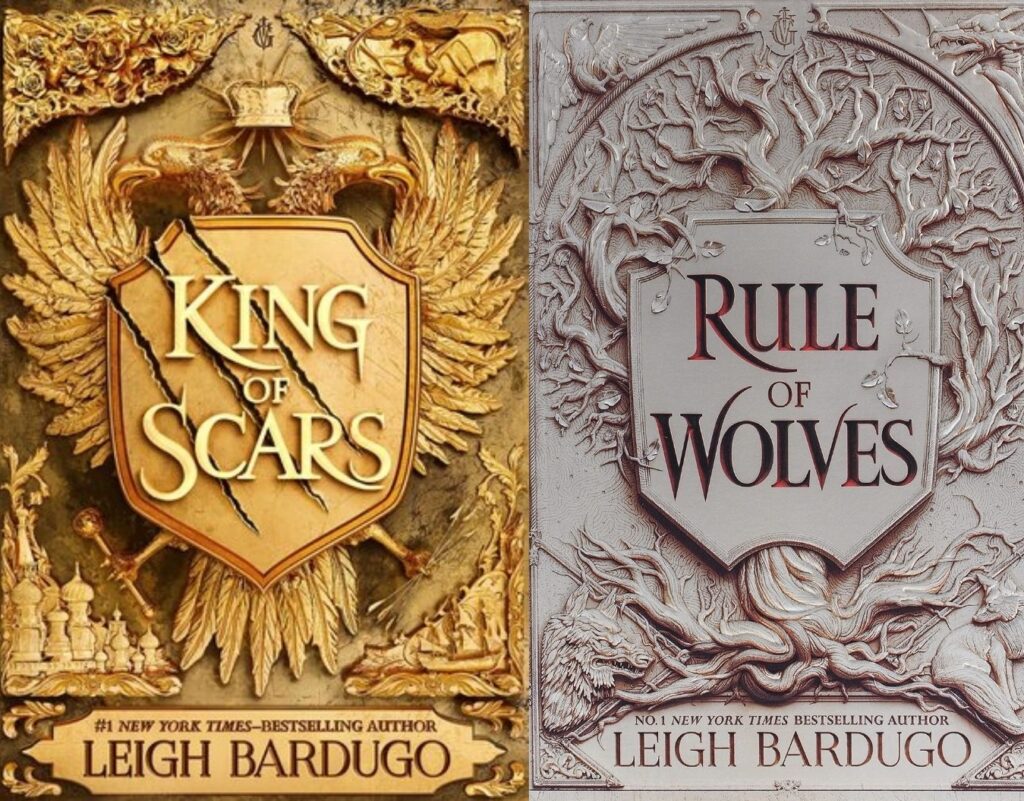 Title: King of Scars
Publisher: Imprint
Books in it: #1 King of Scars, #2 Rule of Wolves
Goodreads Rating: 4.2/5
The Ravkan War is over, and the Grisha army has won. But their victory comes with a price, one that their new king has to struggle with constantly. The country hasn't stabilized yet, and the growing unrest at the borders isn't allowing Nicolas to breathe. And neither is the darkness living in him. The King of Scars series follows the journey of Nicolas as he strives to protect his people from the enemies of his country and himself.
Mini-Review:
Ahhhhhh Nicolas! We got glimpses of him and his army in the Six of crows books which made me look forward to seeing how much he has changed since the Shadow and Bone Trilogy. Unlike the other two series, King of Scars deals more prominently with grieves and traumas and confronting your very own worst demons. But that doesn't mean there's any shortage of threats because there isn't. It arrives late but escalates pretty fast. And the plot twists? Too good.
Rating: 4 / 5, Our Rating Guide
Recommendation: Totally! But you need to read Shadow and Bones books before jumping into this.
Buy the 1st book of the Series, King of Scars now:
---
Conclusion
---
Rating: 5 / 5, Our Rating Guide
Recommendation: YES, it's so worth it!
Bardugo has confirmed that she plans to release the third book in the Six of Crows series many years down the lines, which, as you can guess, I am hyperventilating over. So until then, I think I would just go and reread the entire Grishaverse series for the 16th time. And no, that's not an exaggeration.
---
About the Author
---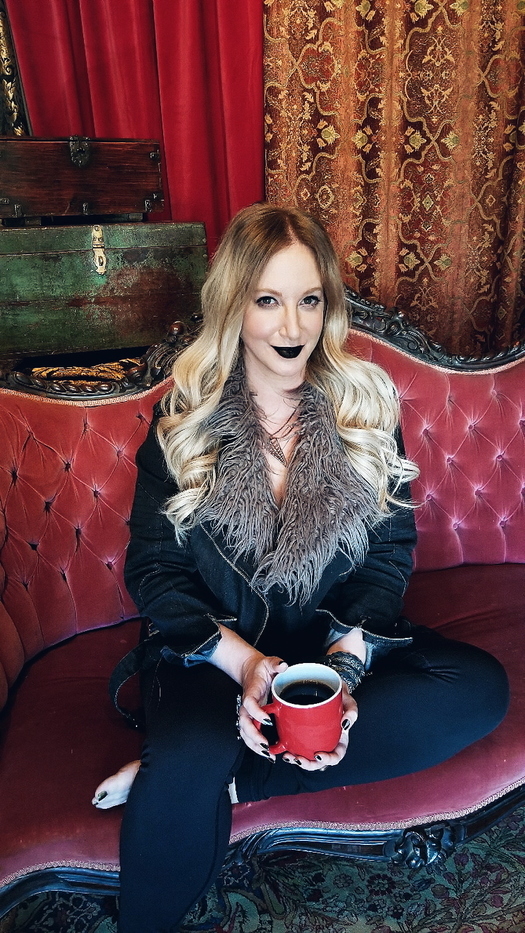 Leigh Bardugo is an Israeli-American fantasy novelist best known for her young adult Grishaverse novels, which have now been adapted as Netflix Original Series – Shadow and Bone (2021). She has also received acclaim for her paranormal fantasy novel Ninth House (2019). In addition, she received 'The best International Novel award for her book Six of Crows in German Fantasy awards (2018) and 'Inkpot Award' in 2019. Born in 1975 in Jerusalem, Israel, and raised by her grandparents in Los Angeles, California, US, Leigh Bardugo graduated from Yale University with an English degree in 1997. She used to work as a copywriter, journalist, and make-up and special effects artist before she turned to write novels and is currently the #1 New York Times bestselling author of fantasy novels.
---
Buy The Shadow and Bone Triology (box-set) now:
Buy The Six of Crows Series (box-set) now:
Buy The Six King of Scars (box-set) now:
Articles you will enjoy:
Videos you might like:
---
Want to send us the book for promotion? Or want space on our blog for advertising? Refer to Promotion & Ads page.
---
Disclosure: Review of The Grishaverse Series is honest. Also, some links in this post may be affiliate links, which means we receive a commission if you click a link and purchase something that we recommend.
Subscribe to our newsletter to never miss our updates and book recommendations
What is your favorite Genre? Do comment below. We would love to know your favorite one.
Do follow us on Instagram, Twitter, Pinterest, Youtube, Facebook, and Goodreads.
P.S. If you share it, it will make our day.
Happy Reading and Keep Smiling!!