Every time you purchase a book, you want the book to be good. You want to be happy and satisfied after reading it.
But is that what always happens?
If you are like younger me, the possibility is that you might end up selecting the not-so-good book.
But that's okay!
Here I have 11 top useful tips for you. These tips will surely help you choose your next favorite book to read.
The tips mentioned below are the tips that I have learned over the years.
Being a book blogger I have to select books all the time. And these tips have proved to be very useful. So useful that now I hardly ever purchase the book that I will later regret buying it.
Let me assure you, these tips will help you to choose your next good and probably your next favorite book.
I always use these tips and have benefitted from them…
And you will too. 😉
So without further ado let's jump into it.
But wait a minute…
---
What do you mean by a good book?
---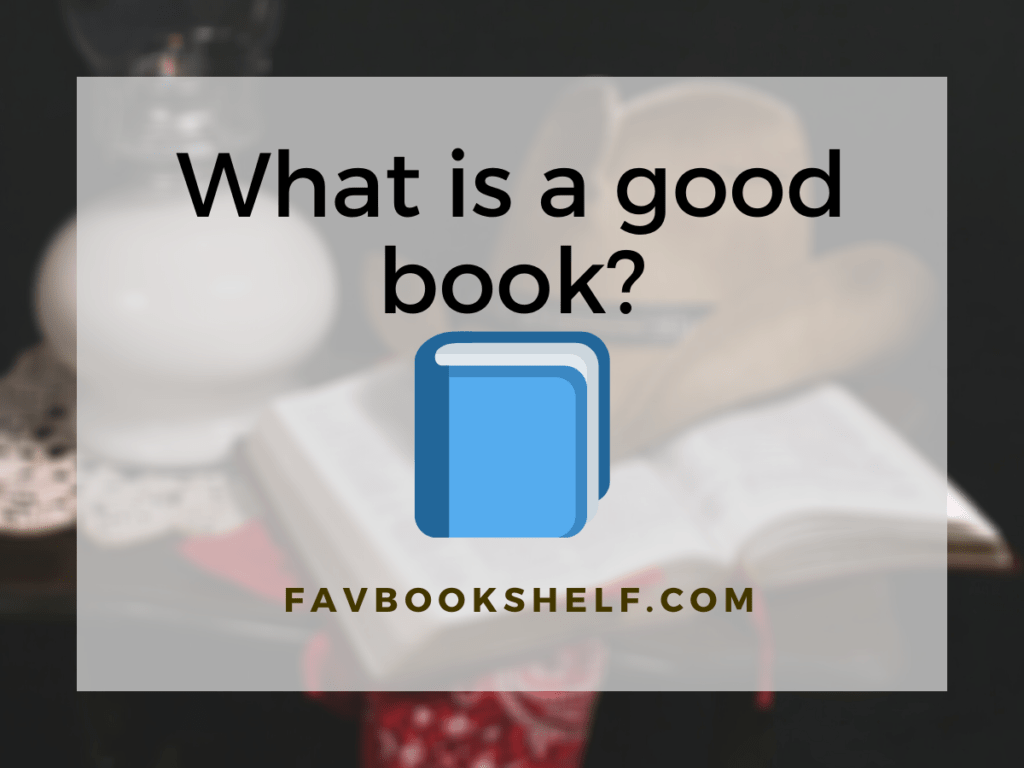 In the case of a fiction:
A good book is a book that even though you have finished reading, you still are reading it. The story still lives in your heart. The characters feel real. The story feels real. The next morning when you wake up after finishing the book you feel something missing. Some part of you missing. You get emotionally attached to it.
And in case of non-fiction:
You feel satisfied reading it. You feel happy that you read it and spent time reading it. Because now you know something more than you knew before reading the book. And that gives you a sense of satisfaction. The satisfaction that you know something more and can be your better self.
Am I not right?
Is that not what you mean by a good book?
So now we know what our good book should be like. Now we can see tips on how to choose our next good book.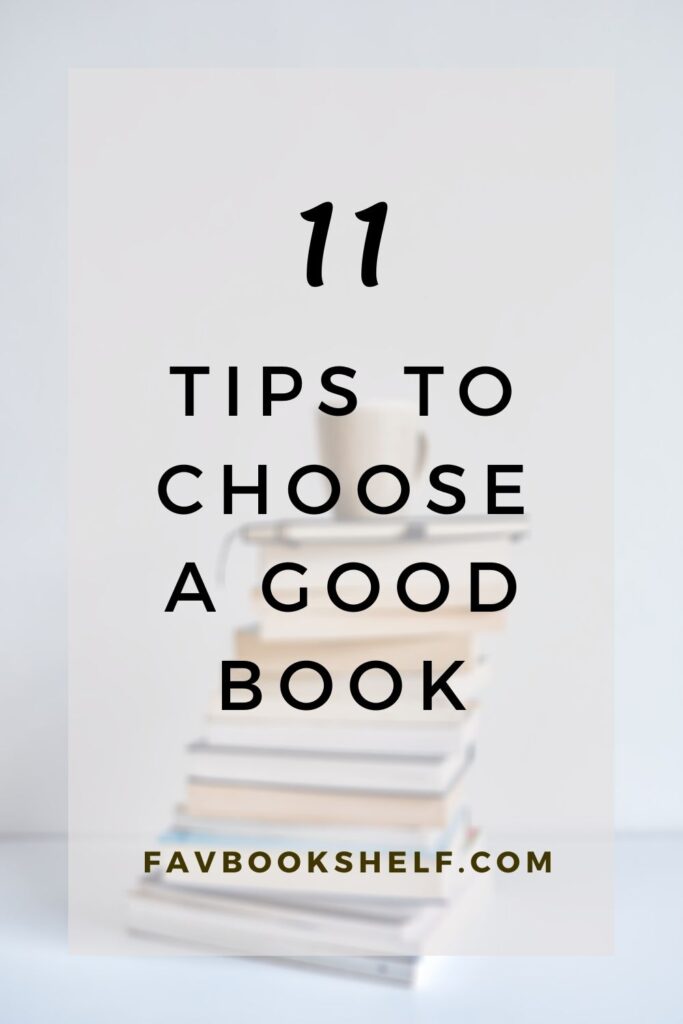 ---
Tip #1 See for recommendations
---
The best way to choose a good book is to ask your friends and family for recommendations or even a library buddy.
But many times it might happen that people around you are not so interested in books. Or also it might happen that your reading styles differ.
But worry not!
You can get your book recommendations online. There are various platforms from which you can choose your next book to read.
Mainly people go on Google and check the blog posts to select the books they might like.
They also go on Youtube. It is also one of the sources for finding book recommendations.
You can also search for book recommendations on Instagram, Goodreads, Quora, and various other sites.
We mostly select books from Goodreads, different blog posts, Instagram, and sometimes even from youtube.
For example, if I want to read YA Fantasy, I will search for it on google. Also, many times I come across books I might like on Instagram, Goodreads lists, or on Quora. So when I come across them, I just add them to my To-Be-Read list.
You can also follow book lists, i.e, nothing but the list of book recommendations.
And if you still need help, you can check our review section, where you might find your next book to read. Or, you can also reach out to us on our Instagram page. We would gladly help you.
---
Tip #2 See if the book is similar to books you have read before
---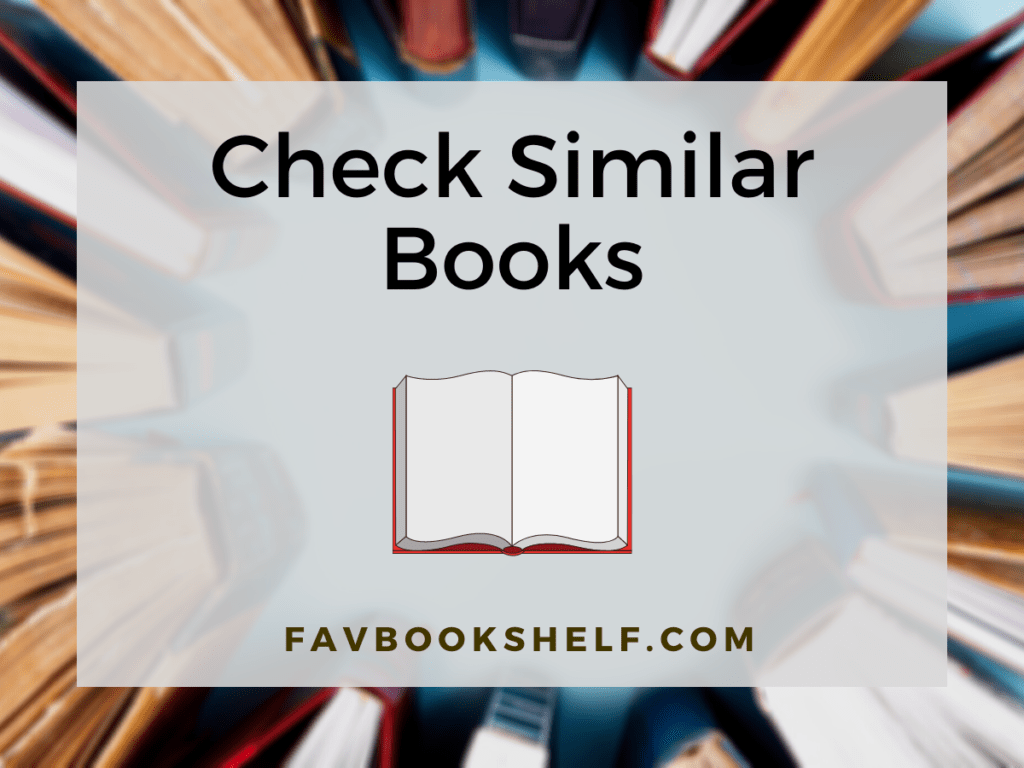 There are high chances that you might like books similar to the books you have read before.
It might be probably because you like that genre or that author's story-telling or writing style in general.
You can also search on google for similar suggested books.
I am reading, The Kite Runner, right now and I am enjoying it very much. So I will type something like, "Books similar to The Kite Runner". And there are so many results.
You can also type in something like that. Now, you too will have many similar books suggested to you. It will make it easy for you to choose your next book to read.
There are high chances you will end up choosing the book you like.
---
Tip #3 See what year the book is written in
---
When choosing your next book, you should check what year the book is written. It is important.
For instance, if you take a business book dated back to the early 20th century. What do you think will happen?
Reading that book won't be of much help unless knowing how the business worked in that century is your only motive.
It's the same with other kinds of literature.
---
Tip #4 Is it a series or standalone
---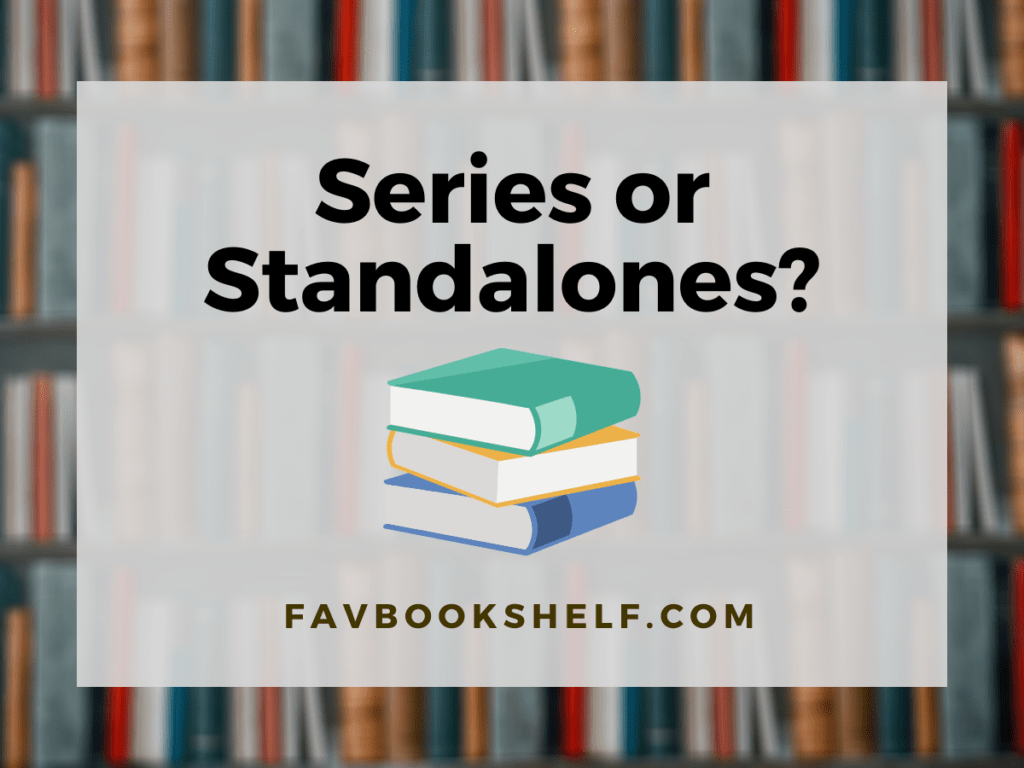 This is yet another important tip.
You should check if the book is a series or standalone. Because not everybody enjoys the series, and not everybody enjoys standalone!
Series means that there is not just one book, but there are two or more than two books. To know the complete story you will have to read all of them.
This is not the case with standalone. Standalone means there is just one book. And that is only the book you need to read to know the whole story.
So it is important to just check once if you want to choose a series or standalone for your next read.
P.S. It might happen that even though the book is a series, it can be read as a standalone. An example of this is the book, The Forgotten by David Baldacci. Even though this book is part of the series featuring John Puller, it can be read as a standalone.
---
Tip #5 Is the book Age-Appropriate
---
This is the most important tip. And often, the most ignored one too.
Choosing an Age-Appropriate book means choosing a book that is appropriate for your age.
Many times being a blogger, I have seen adults selecting books from the Young Adult section and then reviewing them as a not-so-good book. When the young adult for whom the book is written would have enjoyed that book a lot.
That is why the age-appropriate factor needs to be taken into consideration.
---
Tip #6 Do not buy a book just by reading Summary
---
Younger me used to just read the summary at the back of the book and buy it.
And I guess if you too are like old me, you too are doing that.
No worries!
Because later on younger me read somewhere, Don't just read the summary, skim through some first pages of the book too. It will give you much more insight into how the book is.
And don't worry it just takes a few seconds.
Advantage: The probability of you choosing the right next book gets high.
Isn't that master advice?
I thought so too.
But then later I discovered that along with that skimming through the introduction, reading those Testimonials you see as soon as you open the book or at the back of the book are also insightful.
These testimonials are one-liners, that tell you everything about the book, and what to expect from the book. You will know whether you will like the book or not.
---
Tip #7 5-finger rule
---
Imagine you are reading a book filled with new words. And then to understand what those words say, you have to open a dictionary every now and then.
Do you think you are going to enjoy that book?
No, I don't think so. Obviously, unless learning new words is the only motive, you aren't going to enjoy it.
So what do you do?
Follow this technique:
Open any random page of the book or even the first page and start reading. If you find more than 5 new words that you don't know or understand, then that book is not for you right now.
I came across this technique in How to choose the perfect book to read.
Isn't that an awesome tip?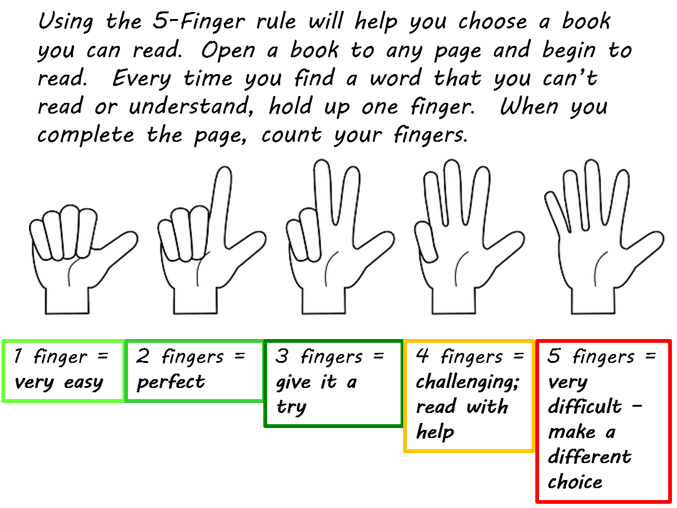 ---
Tip #8 Check the Page Numbers
---
This factor is very much important. And taken very lightly many times. Page numbers!
There are people for whom reading 200- 300 pages is enough and some who can enjoy even 500 pages read.
Obviously, the factor to be considered here is time-constraint.
So again it depends on how long the book is and how much time you can spare.
---
Tip #9 Check the Ratings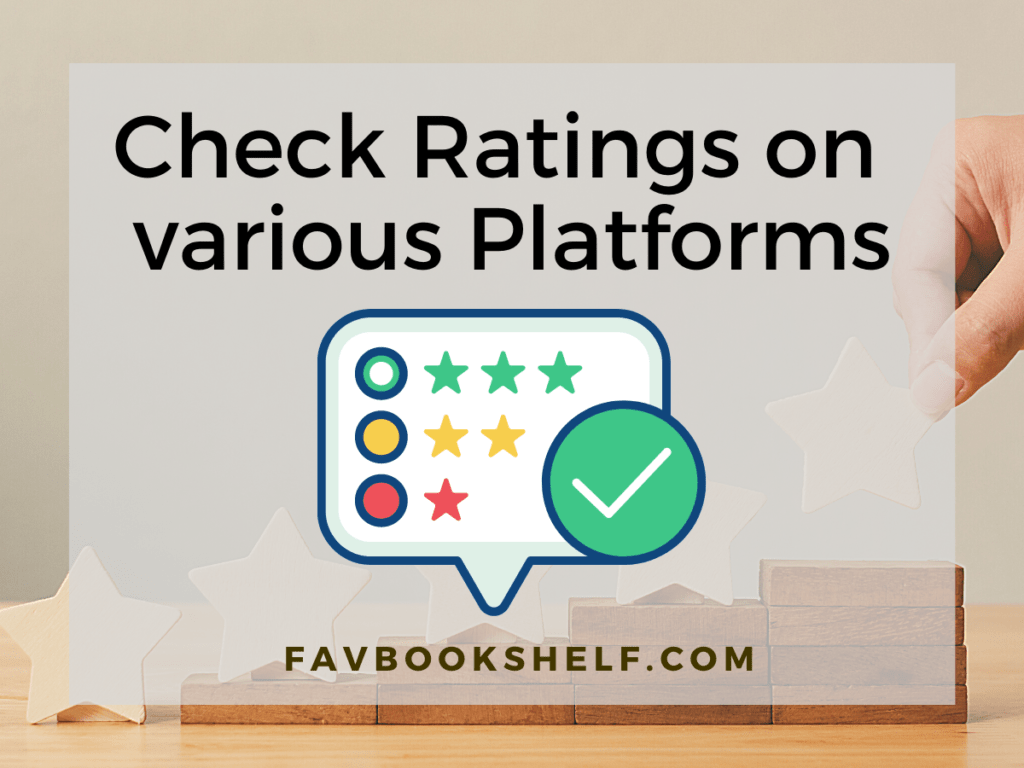 Check for the ratings of the book. This is a common practice.
But what is Not Common is checking for the rating in at least 2-3 different places. This will increase your chance of choosing your next favorite book.
Now you might say it is too much and too much time-consuming.
But it is not.
Follow this:
Quick one-second technique –
Just type in the name of the book you want to read. (Here I will use the example of A Thousand Splendid Suns.)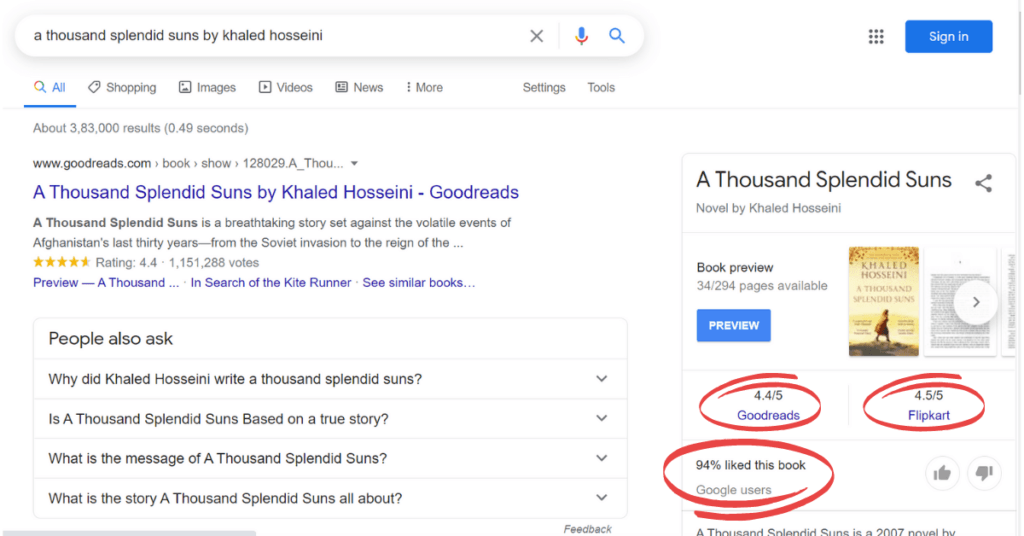 And boom, you have Goodreads, Amazon, in this case, Flipkart, and Google Books rating for the book you searched.
And it is done!
But then… here below is an exclusive tip for you to help you choose the right book.
Check out this Exclusive tip:
For Goodreads:
Mostly a book with a rating of 4 / 5 and above is a good book.
Although I won't deny there have been instances where I liked a book with a rating below 4. Though, it seldom is a case, 1 in 10.
I would suggest never picking a book below the 3.4 / 5 rating. It will rarely happen that will enjoy it.
Also, another important thing is how many people rate it. At least 1000+ people should have rated it.
Amazon:
After Goodreads, the next place to verify the rating of a book is Amazon.
There, on Amazon, see for books with ratings 4 and above.
We never select books below a 3.5 rating on Amazon.
Although many times, ratings on Amazon might not be available. In that case, the ratings on Goodreads are also enough.
Google Books:
It is another important rating you should check.
We would suggest you select mostly books above 90% and above likes.
We would never select a book below 85%.
P.S. Sometimes you might find just only two ratings, but that is also fine.
---
Tip #10 Read the Reviews on Goodreads, Amazon, and Google Books
---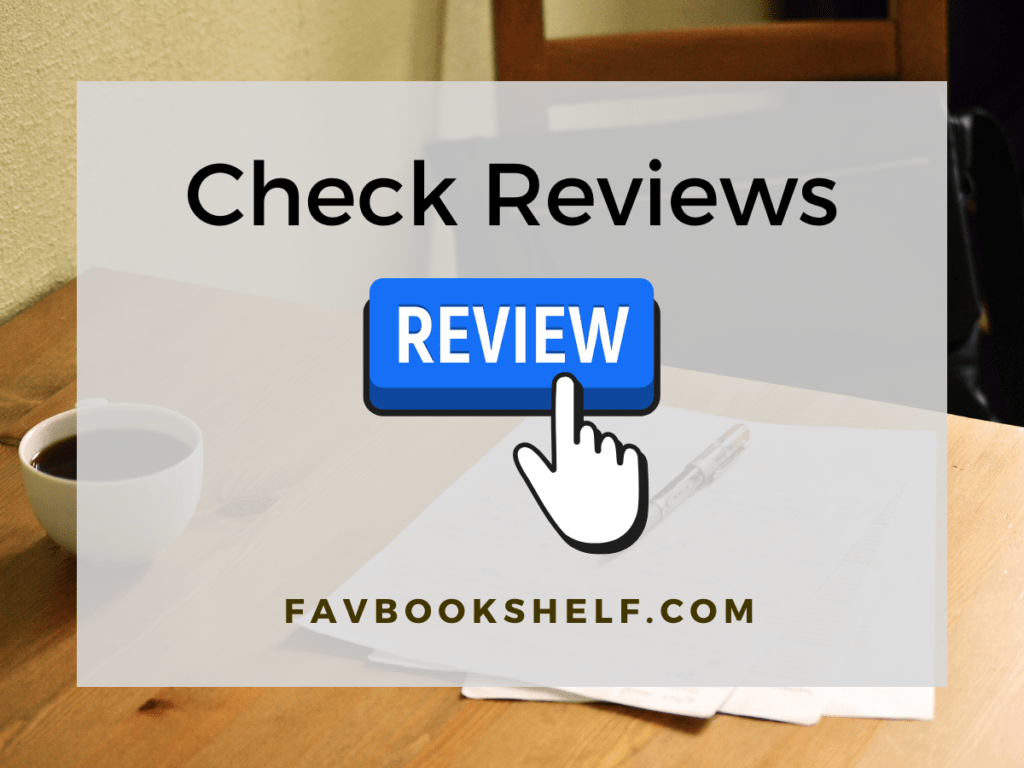 But rating alone is not enough. You should as well check how many people have reviewed it.
Especially for Goodreads. On Goodreads, the book should have at least 200+ reviews. That is at least 200 or more than 200 people should have reviewed that book.
Also, not just how many people reviewed the book is important.
You should skim i.e. just look through the reviews with a 5-star rating, 3-star rating, and 1-star rating.
P.S. Don't get demotivated to buy the book if someone is saying negatively about the book. Because in the end, there would be some percentage of people who won't enjoy reading the book.
We just are taking a look at reviews to just get an idea about the book. As long as the rating and number of people who rated are good, it is fine.
---
Tip #11 Check if it is in a Top seller or Best Seller category
---
We have found that there is a high chance that you might like books coming in the top-seller category.
Most of the books that come in the Top Seller and Best Seller category are fun to read.
But don't just rely on that because many times, a book enters the best sellers list merely because of its author.
---
Conclusion
Tips:
See for recommendations
See if the book is similar to books you have read before
Is it a series or standalone
See what year it was written in
Is the book Age-Appropriate
Read not just the Summary but as well the first para or skim through the preface
5 finger rule
Check the Page Numbers
Check the Ratings on Goodreads, Amazon, and Google Books
Read the Reviews Goodreads, Amazon, and Google Books
Check if it is in a Top seller or Best Seller category
Tip #12 Just buy the book now. What are you waiting for? Order it. 😉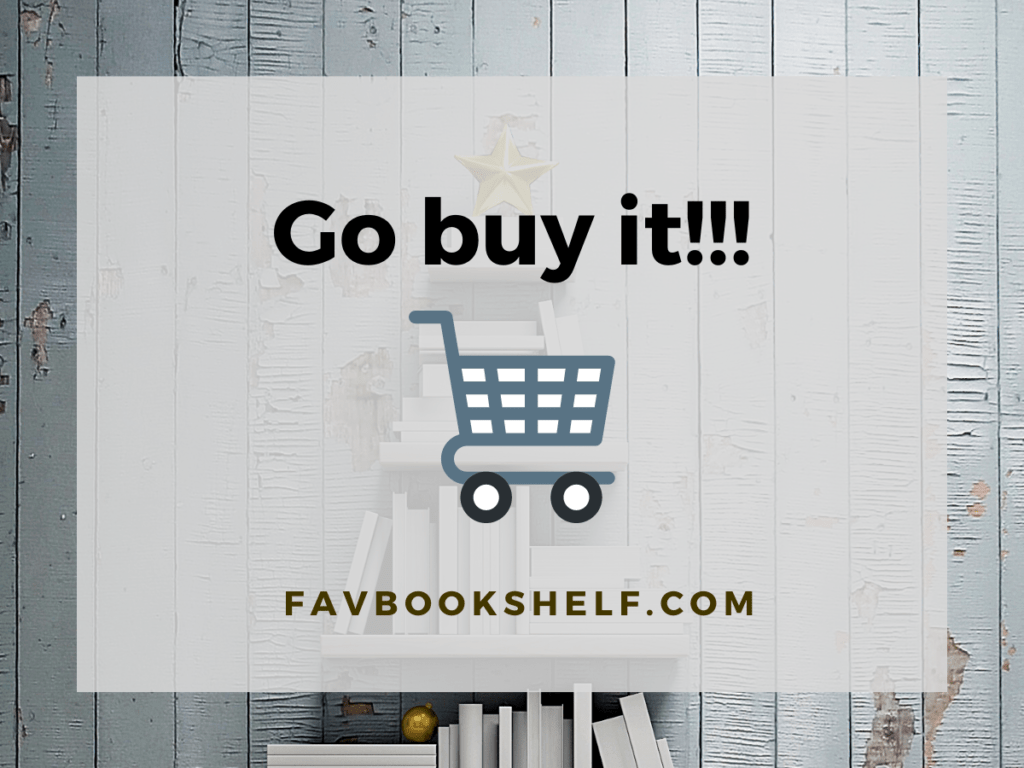 ---
Hope these tips help you in choosing your next favorite book.
Articles you might like:
Videos you might like:
---
Want to send us the book for promotion? Or want space on our blog for advertising? Refer to Promotion & Ads page.
---
Disclosure: All our content is honest. Also, some links in this post may be affiliate links, which means we receive a commission if you click a link and purchase something that we recommend.
Do comment below your the next read you decided. Do comment below. We would love to know your favorite one.
Subscribe to our newsletter to never miss our updates and book recommendations.
Do follow us on Instagram, Twitter, Pinterest, Youtube, Facebook, and Goodreads to know more about us.
P.S. If you find these tips helpful then do share them. It will make our day.
Have a great day ahead!😊
Happy Reading! Keep smiling!!